FEELAWARE SOLUTION
'
We introduce various solutions developed and serviced by Feelaware.
SecureFileTransfer

SecureFileTransfer

It is a solution for safe and flexible 'data transmission and reception processing' between the access system and virtual desktop / session host in VDI environment and RDSH App environment.
Product Overview
Virtual Desktop Infrastructure (VDI) is a system that connects to a virtual desktop in a central data center and supports the same business environment as a local computer and all data processing and application execution are done in the virtual desktop of the data center and only the screen and voice data are transmitted to the access system using the Remote Display Protocol. However, each vendor's Remote Desktop Protocol often does not support sending and receiving file data present in the access system to and from the virtual desktop, and often does not comply with the basic security requirements of the enterprise, such as logging and various policies on the transmitted and received data SecureFileTransfer enables the transmission / reception processing of encrypted secure files and folders between the access system and virtual desktop. Integrated with Active Directory (AD) system, it can be controlled on a Group Policy basis (by computer, user) and meet the security level of the enterprise.

Main Functions (By each configuration)
SecureFileTransfer is a Server-Client structure. Server module and Client module can be installed on an access computer and a virtual desktop, respectively.
Server

- Detection of virtual desktop connection
and delivery of encrypted connection tokens
- Channel encryption communication

Client

- Easy file transfer (Drag & Drop)
- Responsible for transfer data queue management and user UI
- Check file transfer rules through filter

Policy

- Providing basic policy and controlling arbitrary change by user
Features
- Intuitive UI is provided so that users can familiarize themselves with the encrypted channel when transmitting and receiving files
or folders between storage devices (floppy, disk, USB, CD / DVD-ROM) and virtual desktop, enabling transmission and reception.
- The default policy option is set to 'Allow upload / Deny Upload' as a virtual desktop in the access system. In conjunction with Active Directory,
it is possible to manage permissions based on Group Policy and change policies and configure exceptions for users.
-Through the expansion of Logging and Detecting functions, various VDI and Remote Desktop environments are supported.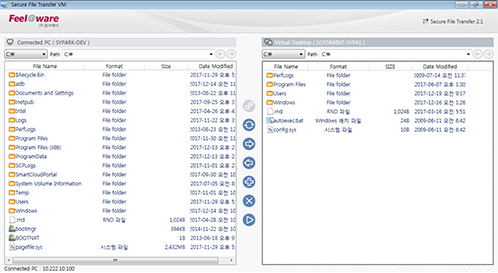 Connected PC
(Computer name)

Display the list of drives, folders, and files on connected computers
Structure of Left Tree,
Right List
Drag & Drop support in List
Virtual Desktop
(Computer name)

Display the list drives, folders, and files on a virtual system
Structure of Left Tree,
Right List
Drag & Drop support in List